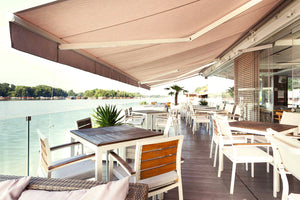 YOUR COMPLETE OUTDOOR SOLUTION
OUTDOOR BLINDS & AWNINGS MADE IN SYDNEY
Rouna Blinds offers a huge range of affordable, high quality Awnings & Outdoor Blinds custom made in Sydney. We supply and install Folding Arm Awnings, Straight Drop Blinds, Zip Screens, Roofing Systems, Cafe Blinds and so much more.
Rouna Blinds provides a full outdoor solution for your home or business, keeping you in the perfect climate from summer to winter, naturally and efficiently. Our external shade systems allow you to control exactly how much light and heat your home absorbs through your windows, blocking up to 90% of unwanted heat when the shades are down and maximising temperature levels when the shades are up.
Contact us for a Free In-Home measure & Quote with one of our Outdoor Awning specialists.
MADE IN SYDNEY
ZIPSCREEN
Designed for the Australian love of entertaining outdoors. It's a great choice for areas such as pergolas, verandas and balconies because it offers privacy and protection from the sun, wind, rain and pesty insects all year round. Sleek & Durable, with both manual or motorised options, ZipScreen is the perfect outdoor solution.
FREE MEASURE & QUOTE
Made in sydney
STRAIGHT DROP OUTDOOR BLIND
The basic but elegant Drop blinds are still a firm favourite where practical and affordable meet. With the same choice of operating mechanisms such as gearbox or motorised these awnings allow for the same protected extruded headbox but do away with all side guides. Manual & Motorised options available.
FREE MEASURE & QUOTE
MADE IN SYDNEY
PIVOT ARM AWNINGS
The Pivot Arm Awning is a simple but incredibly effective way to block out heat and control indoor light. Rouna Blinds Pivot Arm awning has the flexibility for the easiest and best installation on to weatherboard and clad homes. The Pivot arm awning has genuinely stood the test of time – remaining simple, reliable and incredibly functional.
FREE MEASURE & QUOTE
MADE IN SYDNEY
FOLDING ARM AWNING
A Folding Arm Awning is a retractable awning that extends and retracts with spring loaded arms that keep the fabric tight. With the various options of cassetted hoods, Rouna Blinds Folding Arm Awnings provide shade over your deck, patio or courtyard, helping your beers and bubbles stay cold on those hot summer days.
FREE MEASURE & QUOTE
MADE IN SYDNEY
RETRACTABLE ROOF SYSTEM
Retractable Roof Systems (also known as retractable awnings) are the newest trend in outdoor living. They are versatile and therefore caters to a number of applications, including homes, restaurants, cafes and other business areas. These roof systems are stylish, long-lasting and user-friendly.
FREE MEASURE & QUOTE