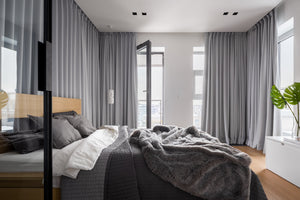 SOFT | LUSCIOUS | BEAUTIFUL
Beautiful Curtains for Sydney Homes
Rouna Blinds offers stylish and affordable curtains made locally in Sydney. When it comes to decorating a room, there is nothing quite like Curtains which inject a luscious soft appeal, bringing warmth and personality to your home. Choose from a range of over 1000 quality fabrics with a range of modern designs, sourced from local Australian suppliers.

CURTAINS
SHEERS
Sheer curtains are curtains made of lightweight fabric that allows light to enter from your windows. The amount of light and privacy varies according to the weight of the fabric. The look of a modern S-Wave sheer curtain is one of style and elegance. We stock over 100 designs and colours of sheer fabrics, sourced from the best Australian suppliers.
Curtains
BLOCKOUT
Blockout Curtains offer protection from light and heat whilst adding a soft, luxurious and comforting appeal to your home. We offer a wide range of designer coated blockout fabrics, offering a sleek and modern look or a traditional lined curtain, adding depth, fullness & luxury to your home.
CURTAINS
DOUBLE SHEER AND BLOCKOUT
Rouna Blinds offers the option to combine your sheer curtains with a blockout curtain, achieving the best of both worlds when it comes to light and privacy.
With over 1000 designs and colours, let us help you transform your home with beautiful custom made sheer and blockout curtains.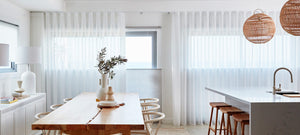 BEAUTIFUL CURTAINS MADE IN SYDNEY