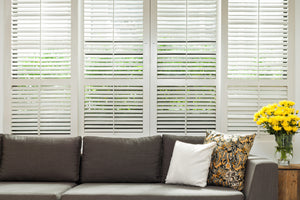 Rouna Blinds Sydney Shutters
Rouna Blinds elegant custom-made Plantation Shutters in Sydney are perfectly custom made to fit your home. Our Shutters the perfect solution offering excellent thermal resistance, design and quality workmanship. Window shutters not only keep you cool during the summer but help retain heat during the winter. This can reduce heating and cooling costs for your home. Plantation shutters provide the ultimate light control – each panel can be independently adjusted to temper the light. The panel louvres can be controlled, allowing natural light in while still maintaining privacy.
Polymer Shutters
Rouna Blinds Polymer Shutters unique manufacturing process allows for the best shutter performance. Housing an aluminium core that provides increased strength and durability, these blades won't crack, split, chip or warp.  
Our Sydney Shutters have the aesthetic appearance of real wood, they're fire retardant and are made from a solid, non-toxic, recyclable material.
Best of all, our shutters are water resistant, meaning they will not only transform your living areas, but your bathroom and kitchen too!
POLYMER
PVC SHUTTERS
20 year Warranty
Installed in 6-8 weeks
Moisture resistant
13 Colours UV resistant
Available hinged, channelled, folding, sliding or special shape
63mm, 89mm or 114mm louvres
Aluminium core for increased strength and durability

Fire Retardent
FREE MEASURE & QUOTE
ALUMINIUM SHUTTERS
Allure Aluminium Shutters are increasingly popular.
Lightweight and extremely strong, these shutters are designed primarily for outdoor use. They provide maximum protection from strong breezes and harsh light and are the perfect addition to any outdoor entertaining or balcony area.
For a finish that adds privacy and style, you can't go past our Allure Aluminium Shutters.
ALUMINIUM SHUTTERS
15 year warranty
Installed in 8-10 weeks
Custom designed and manufactured
Indoor & Outdoor
Designed to handle the extremes of our Australian weather
4 standard colours + custom colours available
FREE MEASURE & QUOTE